Unfortunately SO YOU WANT TO BE A MAN has been cancelled for 2022.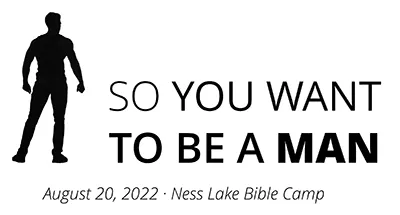 This is an event for men summer 2022. It will be a small event and registration is limited to 25 so register today!
This will be a one day event on Saturday August 20 at Ness Lake Bible Camp. We hope to inspire you with a one day event to inspire you with
a vision of godliness, an understanding of what it means to be a man,
and a sense of how to get there. The day will include teaching, discussion, fun activities, storytelling, and great food. You won't want to miss it!
Date and Time: Saturday, August 20, 2022 from 10:30am to 8:00pm
Location: Ness Lake Bible Camp
Cost: $50